Facilities

of prefabricated halls

Our construction systems are standardly equipped by the automatic vent system. The lighting solutions for our halls are the systems of light panels or skylights. The number and placing of the light elements varies according to a different purpose and specifics of the concrete building. It is possible to place the light elements on the periphere walls of the building.

The periphere walls can be made in different ways according to the purpose and architectionic solution of the concrete building. It is possible to use and combine the panels, masonry or glass.

The warm isolation of our halls can be made from every material on the market. We can suggest you the suitable system of the isolation according to the purpose of your building. This system is installed directly on the base construction. We install the isolation at the same time as the whole hall.
User
comparision
Compare the basic user characteristics of our construction systems and their efficiency for your building intentions. We are pleased to provide you any further technical information.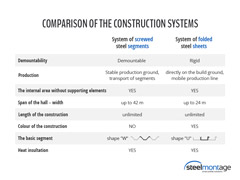 Contact

us

If you have any questions regarding halls Steelmontage please contact us.